Greyne Hardwood
At Northeast Flooring & Kitchens, we're proud to offer you a variety of flooring options that fit your needs. As your local flooring retailer, one of our primary goals is to help you find flooring that fits your needs as well as your design goals, which is why we carry a wide range of flooring options. One brand that we're impressed with for their many styles is Greyne. There are many benefits to choosing Greyne for your home, and we're happy to help you determine if it is the best option for your space.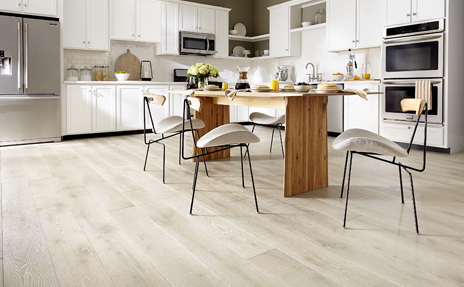 Why Greyne?
Greyne is a product that is sustainable, sourced from local areas as well as Europe. The finishes applied to all Greyne hardwoods do not have VOC's, as the products Greyne uses to finish floors are either water-based polyurethanes or vegetable oil-based. If you are looking for a flooring company that takes responsibility for their product, Greyne is an excellent choice.
Not only are Greyne hardwood floors a sustainable option, but they are also a visually appealing choice. You can select from the six beautiful collections, all inspired by luxury.
The Lifestyle Collection is known for its high-quality hardwoods that vary in thickness and width. You can find depth and tone with every product in the collection.
The Chalet Collection uses a technique that is five-hundred years old called "limed oak" in Europe. If you like character, you'll fall in love with the Chalet Collection.
The Luxe Collection is full of hand-finished hardwoods that are carefully created. Whether you're looking for a deep brown tone or a gorgeous gray, you'll find it in the Luxe Collection.
The Majestic Collection features wood floors that up to eighteen inches wide – not something you see every day! When choosing flooring for a luxurious space, the Majestic Collection is a great place to start.
The Wood Tile Collection has unique, innovative products that will make your home one-of-a-kind. You'll find designs that stand out and make a statement in this collection.
The Reclaimed Collection is full of authentic, distressed woods that will have you appreciating the many years of wear on the wood. From barn wood to antique pine, the reclaimed collection will give your home tons of character.
If you want to learn more about Greyne hardwood floors, stop by our showroom in Putnam, CT, or give us a call today!